So, apart from the odd entry here and there, it has been quite a while since I did any real blogging. Mrs QB and I have settled into our mansion here in Qatar and are finding our feet. I finally start teaching again next week (and I'm looking forward to it!), we are finding our way around our new country and I think it is time to blog again.

You may recall (assuming that you have read recent posts) that the ever so kind people I used to work with in my last school bought me a wide angle lens when I left (amongst other things I might add). Now, I have often wanted a wide angle lens but until now have never actually used one. I started playing with it over the summer in order to get used to it and find out what it can do and what limitations it might have.

I will show you some of the results - good and bad - over the next few entries. As you know I like to do available light photography and I am going to start by showing you a couple of the pics I took at night. One of them is with my standard lens and the other with the new wide angle one. For those of you who know Skopelos, the pics were taken from Braxos (pronounced Vrakhos) Bar which overlooks the Paraleia (harbour road).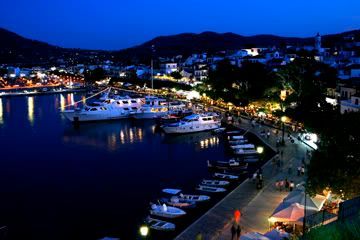 This is taken with my standard lens.




And this one with my wide angle lens.
For the technically minded amongst you, both photo's were taken at f/5.6 and ISO200, the normal lens one had a 22mm focal length and an exposure of 0.8 of a second whilst the wide angle had a 10mm focal length and an exposure of 4 seconds. Both photo's were taken on my Canon EOS 400D and the wide angle was taken approximatley 20 minutes later than the normal.