Mrs. Istanbilly and I took another walk in the forest this morning. This time I took my long lens with me - it has the advantage that it also doubles as a macro lens. Of course, a dedicated macro lens allows you to get even closer to the subject but I am happy with the photo's that I managed to get.


Long time readers of the blog will know that I particularly enjoy taking macro photographs of flowers - on our 6 km walk today, this was one of very few flowers we saw, but how lovely to see such a beautiful flower growing when all around are the rich colours of autumnal decay!
But plants can be beautiful even in death - this teasel with its attendant shriveled leaves is certainly testament to that.
There were lots of trees whose leaves were in the process of changing from green to yellow and brown but it was difficult finding the right combination, but in the end I was pleased with this study with leaves which are completely dead, leaves which are completely alive and leaves which are somewhere between the two extremes.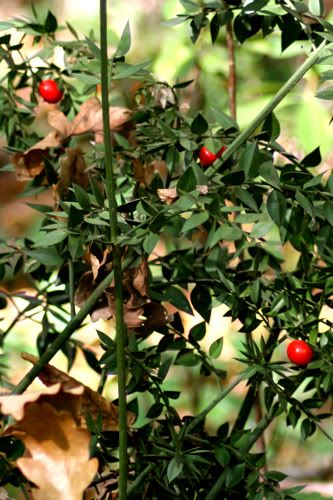 It isn't holly, but I suspect that this prickly little bush with its bright red berries is a relative. A lot of people who walk round the forest take sprigs of this bush home with them - perhaps it is some kind of tradition at this time of year here in Turkey. To me, this is nature preparing to provide winter food for the forest creatures that live here all year round.
This is just a view of the path we were walking along. I really think that Belgrade Forest is going to be my favourite part of Istanbul. I wouldn't describe me as a 'tree-hugger', but I have missed seeing natural forests like this during the last decade and a half in the Middle East, and now I am so close to one I am determined to take advantage of it!