OK, one last play with Photoshop and then I'm off to do some work.

Aaron put me onto tilt-shift photography. I'd never heard of it before but it is a fun little technique. I'm not sure what it's applications would be, I just like what it does. Basically you take a photograph and blur parts of it so that one little part stands out in sharp focus. This gives the effect of a macro photograph. So you are actually creating an optical illusion. Having fooled the viewer into thinking they are looking at a macro then they believe that the object they are looking at is very small, so it must be a model in model scenery!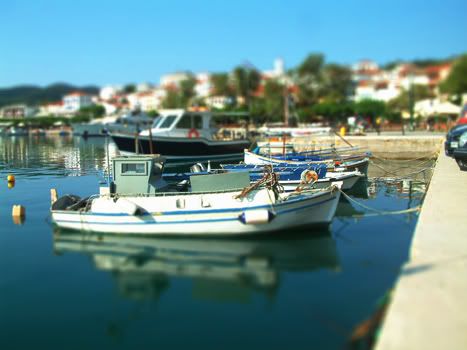 Now, of course I can't put this up without saying where I got the tutorial from, so I would like to thank the guys at
Tilt-Shift Photography
for their tutorial. It does seem to me, however that there is room for some improvement in this technique which I will keep quiet about for now, at least until I have the time to try it out!
Now I did say that
PS Hero
has a great tutorial for improving photographs and I said I'd show you a before and after shot:
More intense reds, brighter greens (but not unrealistically so), whiter whites, I know which one I prefer. In case you are wondering the photoshopped one is the one on the right. By the way, it is the Skopelos Town Clock Tower.