I promised you some photo's of Skopelos that I took while on holiday. To be honest, blogging has taken a bit of a back seat since coming back to Dubai. The last two and a half weeks have been really busy getting the school set up for the new year. We had a lot of new staff this year and the changes have made things a bit more difficult than a normal start to the school year for yours truly. Never mind, things will settle down soon, the new staff are beginning to find their feet and find their way around the place - soon they will have to cope because the kids come in on Sunday. We are in Ramadan now and our hours are supposed to be shorter - officially we work from 8 until 1, but for me it was start at 7:30 and finish at 4 and no break for lunch - ah well, when Ramadan is over I guess I will be back to normal - in by 7 and leave at about 5 or even later and still no break for lunch - it is just a matter of getting used to it!

And I shouldn't be using it as an excuse for not blogging. Mrs DB and I (her working hours are every bit as bad if not worse than mine) have agreed to not moan about our day at work to each other no matter how bad it has been - I wonder how long we will last!

Anyway, I promised you some pics, so here they are:




This is one of the many beautiful churches on the island - and look at that sky, what a fabulous shade of blue - and yes, it really was that colour!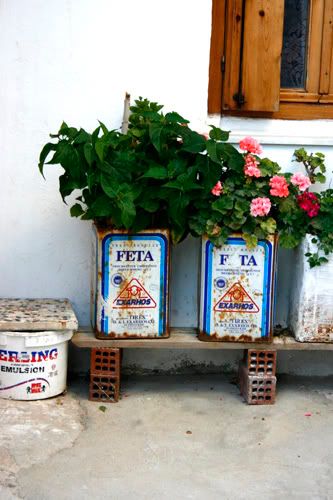 You just have to love the Greeks - the amount of rusty or battered feta cheese cans or olive oil cans that enjoy a long and serviceable life, standing outside someone's house, doubling as a flower pot is amazing! Me, I prefer terracotta, but I find something really rustic in scenes like these. And, hey, far be it from me to tell people what they can use for their geraniums.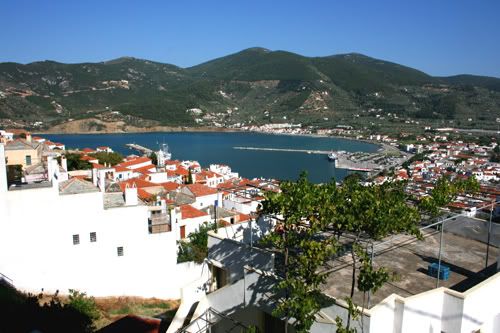 This is the view from the top of the town looking down to the harbour and across to the hills beyond. Are you jealous yet?
Well, as promised, these are some of the pix - I may post a few more in a few days. I have also promised to put up a few pix of the inside of the house which I will, but not today.