So, after an early start this morning, we decided to head back into town again. So it was back on public transport for us. Dolmus into Sariyer, then we got the wrong bus from Sariyer - wrong in that it didn't go where we expected it to! What the hell. Where its route ends there will be a little bus station so we will try to get where we want from there. I guess it took us about two to two and a half hours to get where we wanted rather than an hour. By that time we were extremely hot and sweaty!

Anyway, we went to Eminonu to have a look at the Egyptian Bazaar - lots of ceramics, lots of Turkish Delight and lots of spice stalls. Lots of people as well. Saturday is not the best day to be doing this sort of thing - especially in the hottest and most humid summer anyone in Istanbul has ever known!

After the spice bazaar we visited here: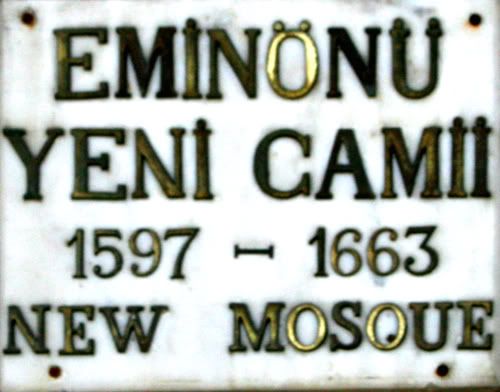 It is wonderful that the "New Mosque" in Eminonu should have been built between 1597 and 1663!
This is a beautiful mosque and visitors are allowed inside. This is a walled court yard containing the ablution fountain outside the main mosque.
The mosque is as beautiful inside as it is outside. It quiet and it is peaceful and the faithful at their prayers are very patient with us tourists, even allowing us to use flash photography in there.
Above is a view of the beautifully decorated multi-domed roof of the New Mosque and below is an interior view.
Well, there is only so much culture a person can take in one day so, after visiting the New Mosque we made our way over to the very flash Kanyon shopping centre and finally got home at about 10 past 5 in the afternoon... Knackered!!!