It had been a very windy night - the wind didn't penetrate the tents at all and everyone was warm enough, but it made for a noisy night, tent fabric flapping all over the place, the morning came and everyone was knackered!

We started late - the sun was well up before we surfaced and then we dossed around for a while drinking tea and trying to get enough energy going to make breakfast - eventually we got there!

We decided not to have a particularly busy day, but we didn't want to just sit around at the campsite all day, wasting the day doing nothing. We decided on a fairly short trip to Wadi Damm. We took a drive to the wadi and drove part of the way up it and then hiked up to the dam.


Before the dam there was just the occasional little pool, but after it, things got considerably better - though it was fairly obvious that it had not rained in quite some time. Nevertheless there were some lovely little waterfalls,
and some reasonably sized pools.
We spent a little while by the water and then hiked back down the wadi and stopped to have lunch in the shade of a lovely big tree where we had parked the cars.
Just behind the tree was a falaj running from the pools and down the whole length of the wadi to an oasis at the bottom. The running water attracted all manner of insect life including some beautiful dragonflies. In addition to the red ones, there were also some that were a beautiful shade of powder blue - but the red ones made the better photograph.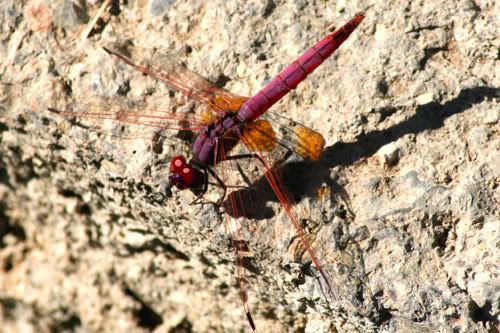 After lunch we drove back to the campsite, getting back round about 4 pm. As the sun dropped behind the mountains the cold set in quite quickly, so we lit the fire early and got on with the dinner. Mrs DB (being a South African) is a remarkable outdoors cook! That night she made beans bredie in the potjie. Beans bredie is a stew made with neck of lamb, runner beans, potatoes and onions and it is delicious! A potjie is pronounced poikee and is a South African three legged cast iron cooking pot which is just like a witches caulron. So the components of the stew were put in the potjie and then it was cooked on the campfire. It was delicious! If you have been a long time reader, you will know how much I enjoy available light photography - this is the potjie bubbling away on the camp fire.
And so we reached the end of the day, but before turning in, just look at those stars - I just can't resist the opportunity of trying to get them - you should be able to see orion and the plough and isn't that cassiopea down near the bottom?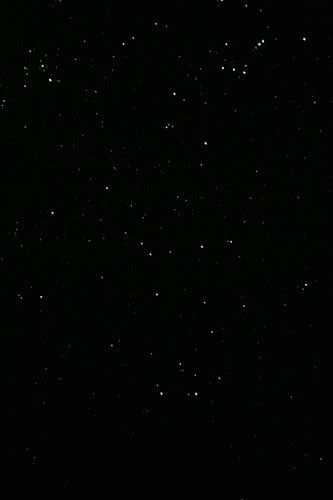 I'll tell you about the next day later.