Apart from failing to copy Christmas albums, Mrs DB and I did some nice things this weekend.

Way back in September, we made the Christmas cake. We have been adding brandy to it on a regular basis - only a little at a time and just once every two weeks to give it time to mature - that way the alcohol will bring out the best flavour in the cake rather than dominate all the other flavours (which I believe it does if you put loads of brandy in all at one go). So the cake is nicely matured and ready for the table. We put the marzipan on it last weekend and then we did the icing this weekend.


That having been done, we spent a good portion of yesterday afternoon decorating the tree.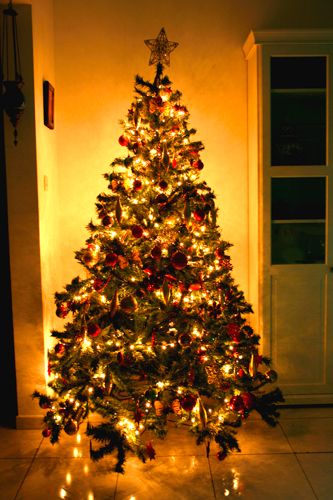 As always I just couldn't resist doing an available light photograph of it and as you can see it turned out... well, maybe OK. I never really manage to get a good available light photo of the tree even though I always try, I dunno why I just don't seem to be able to manage it.
So we have now started the countdown to the big day - we have seven friends coming round to join us for Christmas Dinner and we are really looking forward to that. Two years ago we had friends round for Christmas Dinner and we had a great time, so we are hoping to repeat that. We are going to have stilton and broccoli soup to start, followed by roast goose, roast ham, roast potatoes, roast parsnips, sprouts with pancetta and shallots, and ginger and orange glazed carrots. Then we will finish with trifle, Christmas pudding and Christmas cake, and of course, cheese and biscuits with port! Lush.
Mrs DB and I have been on a bit of a diet for a few weeks - I think that little lot should undo all the good work, don't you!