The previous night was a lot quieter because the wind had dropped and everyone had a good night's sleep. Just as well because day 3 was a busy one!

We had breakfast early and set off at about 10 am for Jebel Shams, which is over 3000 metres high. The road is absolutely spectacular - steep gradients and hairpin bends all the way. It was a great drive and at times I didn't think our car would get up some of the gradients! But at last we reached the top and we were treated to a breathtaking site that I hadn't anticipated - the truth is my photograph doesn't do it justice at all.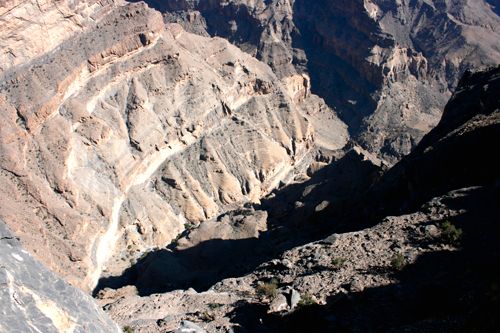 It is known as "The Grand Canyon of Oman" - I've never been to the one in Arizona but this was a fantastic sight. I believe that it is an example of amphitheatre -ended canyons. I was at 3000 metres here and I have no idea how deep the canyon was but it was truly beautiful and awe-inspiring.
Eventually we dragged ourselves away and headed back down Jebel Shams (which apparently means "The Mountain of the Sun"). Heading for Misfit Al Abreen - about which a little more later - we stopped twice, once for lunch where we were joined by a very friendly goat who seemed to think that our lunch was as much for him as it was for us. This is Alice feeding our adopted goat.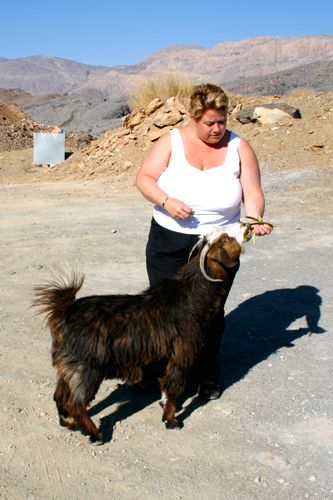 The second place we stopped was between Jebel Shams and Al Hamra. There were houses built into the hillside - they were fascinating and I just had to get a photo.
Eventually we reached our second destination, Misfit Al Abreen and again we had a road full of hairpin bends to climb to get there - but it was well worth it. Misfit Al Abreen is a village high on a hillside with a terraced plantation below it with many date palms, but also with orange and lemon trees, banana spikes and many other plants. The village is a working village but is also a living museum and attracts many tourists - we were luck that it was fairly quiet when we arrived so we were able to walk around without too many other people getting in the way - yes, I know that is selfish of me, but there you go! I took lots of photographs whilst we were there, these are just three of them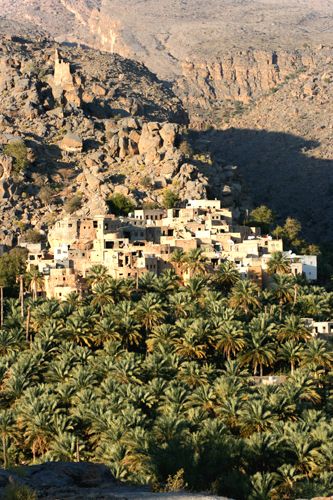 It was a long drive back to the campsite and it was completely dark when we got there - everyone's nerves were a little on edge, but a couple of glasses of wine made everything better. It had been a fantastic day and we all enjoyed ourselves. The next morning we broke camp and set off on the 400 km or so journey back to Dubai. Before we knew it we were back in 'civilisation'. But as I took the final photograph of the trip, I couldn't help wondering if this place will last as long as some of the places I had seen in Oman and, indeed, if it was as impressive as some of them. I thought the answer to both was 'NO' - you might well think differently.