Regular readers will know that today is not my birthday, but I could certainly have been forgiven for thinking that it was!

Not long after I had arrived at school, David Alvioli (no, it isn't) opened my office door and said "Have you got a minute, DB" or words to that effect. OK. Then he said, "I was shopping and I saw this and immediately thought of you and had to get it for you."

Those who know me will know that my taste in ties is outrageous! I like ties with big pictures on them, rather than stripes or spots etc.

So he gave me this package which I opened and found this fabulous tie in there, it is bright red with gold semi quavers and crotchets and minims and things on it along with swirling musical staves - I'll tell you what, a photo would do it more justice!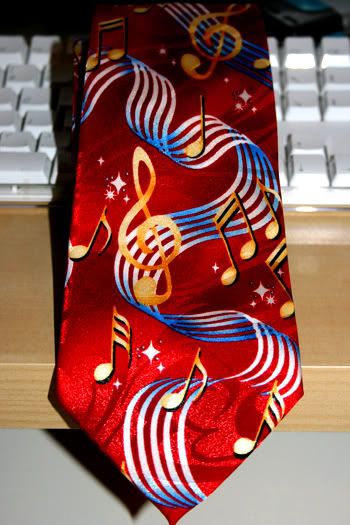 And this is absolutely right up my street - many thanks to DAV
Then, a few minutes later on of my students came in with a big pink bag! "Mr Dubaibilly", she said, "This is for you, it's an end of year present." Well, what can you say, "Thank you".
The thing is that this young lady is part of the ruling family of Dubai and she decided to buy end of year presents for all her teachers - mine is a Nokia N95 8 GB mobile phone!
I don't know what to say.
So I'm going to break one of my own rules - I never mention anyone on here by their real names (except me once or twice, but this time I will,
Thank you very much to Her Highness Sheika Latifa Al Maktoum, I am very, very touched by your generosity.
So, two lovely, unsolicited pressies on one day - no wonder I thought it was my birthday!