Now, I know that some people visit this blog simply on the off chance that I may have posted a new photo of Baggins. Never mind the drivel that I write or any other photo's I may put up here - they are of little consequence. Baggins is what is required!

OK, I give up - just for you, some new Baggins pix coming right up. Now, you know that Baggins likes to climb into any box or bag that just might be available, well these pix were taken just after Mrs DB and I had got back from shopping yesterday - yes, I know, they aren't Spinney's bags, but that doesn't mean my previous post isn't true, it's just that these bags hold more shopping than the yellow and green plastic ones, and the handles are better - they don't try to cut your fingers off while you are carrying your goods from the car to home.

But I digress, Baggins pix:




Baggins looks somewhat surprised that I should be taking his photo!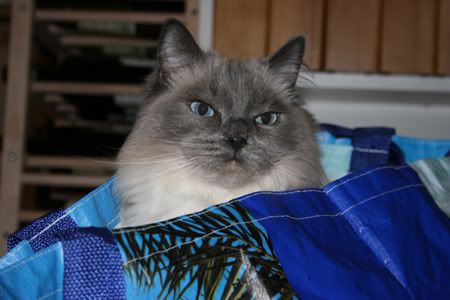 But having got used to the idea, he decides to pose for the camera.


But it doesn't take long before enough is too much - as in "take that camera and shove it!"