So, today the English Premier League finally finished - it started 38 matches ago back in August and today all 20 teams played, kicking off at the same time for the first time in the season.

Issues needed to be settled at both the top and the bottom of the table. It wasn't clear who would be champions and who would be relegated. The league title was between two clubs - Chelsea and Manchester United. They were level on points, but United had the better goal difference.

At the bottom, the teams that could still be relegated were Birmingham, Bolton. Fulham and Reading. The press said that Bolton were safe, but some outrageous results could have happened and Bolton were still in the mix. As for Fulham, there future was in there own hands, Reading and Birmingham had to do the best they could and hope other results went their way.

Me? I was watching the Chelsea v Bolton match and didnt care about any other game - we could not afford to get battered in this match, a point saw us safe and three points would be a bonus ~ the truth is we could afford to lose, but not by a big goal difference (we have lost at Stamford Bridge 5 - 1 in recent years), we could also not afford for Reading to score too many. All in all, we were looking for at least a point.

Sir Alex Ferguson, manager of Manchester United and longest serving manager in the Premier League, a man who is respected throughout the game of football said this:


"All we have seen is Wigan players saying how they will beat us. Fine, I've no problem with that. Then you hear about Bolton players out all week celebrating. Both teams are safe but one is all keyed up to play Manchester United and the other one is celebrating.
This is a disgusting comment to make about a rival Premier League team and Sir Alex Ferguson should apologise to the Bolton Wanderers players.
6pm came today, and i was sat at home watching the television - it was our last game of the season and I wasn't about to miss it. So, at 5:45 I poured myself one of these: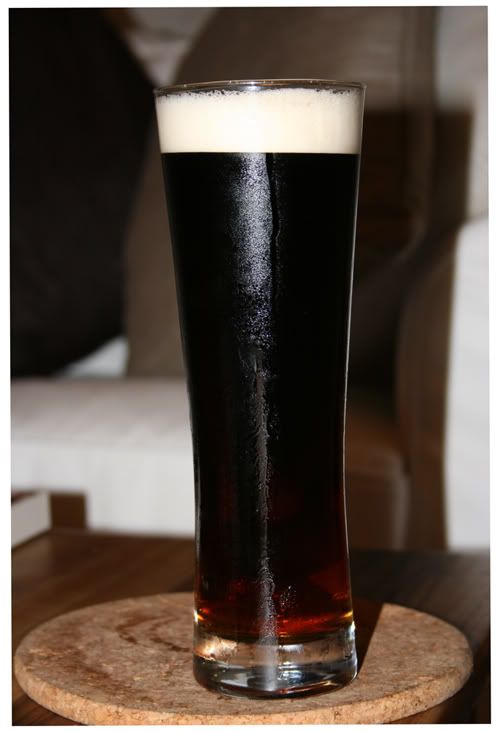 This is Abbots Ale and Murphy's Stout mixed and I haven't drank this for 13 years! But I had it today - delightful, just as good as I had remembered. (Check out how the stout floats on the Abbot ale.)
So at 6 pm UAE time, the game kicked off and for the first forty five minutes honours were even. Chelsea did not particularly look like they were going to batter Bolton into submission, Bolton did not look like they were going to roll over and die because there had been too much celebration during the week.
I had a couple of Abbot Ale and Murphy's and the first half drew to a close with the most important event being John Terry getting stretchered off following a collision with his own goalkeeper for which the Chelsea fans blamed Kev Davies.
Manchester United where by now winning 1 - 0 against Wigan.
In the second half Chelsea came out and really went for the victory - eventually their pressure was too much for the Bolton defence and they scored.
But then the game took a really odd turn.
Having taken the lead, Chelsea just sat back and stopped trying.
Bolton, the team that Sir Alex Ferguson had criticised during the week, never ever gave up. They kept on trying and were, much to the disgust of Avram Grant (Chelsea's manager) and the rest of his team, rewarded with an injury time goal that a) was totally justified, b) meant that it didn't matter from Bolton's point of view what any other scores were and c) meant that Sir Alex Ferguson was completely wrong in his assessment of the Bolton Wanderers and should apologise to the team for his disgraceful comments.
Bolton Wanderers players played their hearts out today and eventually clawed a goal back to draw with Chelsea, not only did this mean they relied upon no other results to stay in the Premier League, but it also meant that Manchester United won the Premier League Title outright. Sir Alex Ferguson should be praising the commitment of the Bolton Wanderers players today.
Me - I've supported them for 50 yearsand will continue to do so next season - 'cos next season we are going to win the league - and the FA Cup - you watch.