Mrs Dubaibilly and I are cat lovers. We have a beautiful Rag Doll cat called Baggins and, periodically I will put pictures of him up here for you.

As you know, we recently moved apartments. In the old place we had windows which opened outwards and so were not able to have them open very much because we didn't want Baggins jumping out of them. Our new windows have sliding windows with bug screens which are much better because we can have them open whenever we want - even when we are out - without having to worry about whether Baggins will still be here when we get back.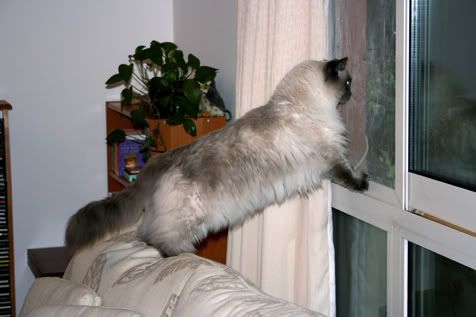 As you can see, Baggins is interested in what is going on outside (it was still raining when I took this and he doesn't know what rain is!) Perhaps I ought to move the sofa a bit closer to the window so that it isn't such a stretch for him!