Falls mainly on the plain
The rain in Dubai
Does not go down the drain!

It is raining - persistently - hard! Why blog about it? It doesn't rain often here and invariably makes news when it does. Last year it did a good job of washing the Dubai 7's out (not for the players, of course) - this year it has reached new heights (at least as far as I am concerned). I'm now in my eleventh year in Dubai and this is the first time I have ever known the schools to close because of the weather. But yes, ladies and gentlemen, I kid you not, rain has stopped play! Tomorrow my school is closed because of the rain and I just happen to know that mine is not the only school thus affected!



This is the view from my bedroom window - rain is notoriously difficult to photograph, pictures of puddles are often the easiest way to do it - another is wait until it goes dark and use a flash but of course you then have difficulty with focus.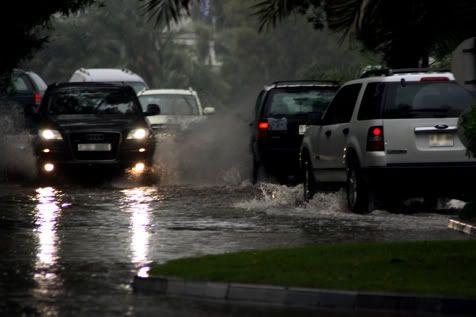 This is the main route into and out of the car park where I live - fortunately we don't park and then have to walk through this to get home!