Oh yeah, I've been back a few days now and all I've really done is moan about the journeys and the immigration officers. I haven't mentioned the holiday at all.

OK, Mrs Dubaibilly and I went to Cape Town to spend Christmas and New Year with Mrs DB's family. Now that suits me just fine, because I do like my in-laws very much indeed. It isn't the first time we have been there, in fact Mrs DB has taken me there so many times that we no longer feel the need to do the "tourist bit" - so you are not going to get a load of touristy snaps of South Africa. In fact, on this trip we didn't even go into Cape Town. The family live in two locations, Somerset West and Langebaan (Google them if you really want to know more).

During our stay we basically stayed at home, ate too much, drank too much and rested! Which is what we needed - I know, it isn't very exciting for you, dear reader, but that is what we did.

Of course, I indulged myself in one of my hobbies (photography) and I can share some of the results. I did a bit of black and white photography (it's a long time since I've done that! back in the early 70's I think). Just behind Renee and Aksel's place are the Helderburg mountains and there were some amazing cloud formations - the clouds seem to cling to the mountains and flow down them: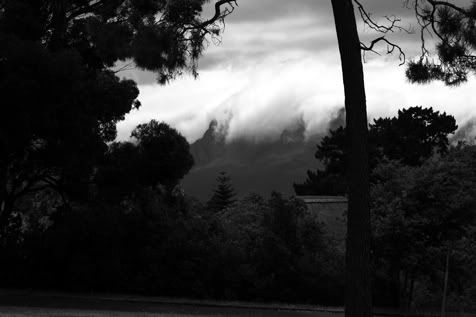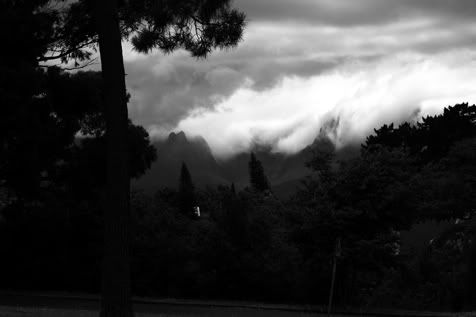 It is, of course, only my opinion, but I think they are quite spectacular. I also quite like this (back into colour again, which is a view looking towards Strand from Somerset West at sunset: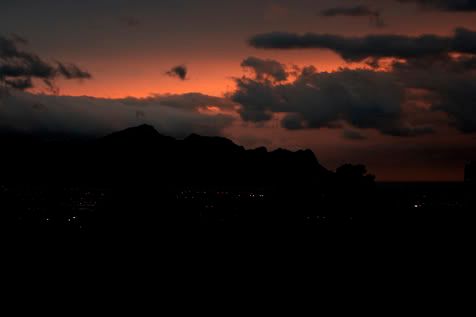 As you can see, we go some pretty moody weather! But it wasn't all clouds - we went up to stay with Mrs Dubaibilly's brother in Langebaan, and, as you can see, the weather was delightful: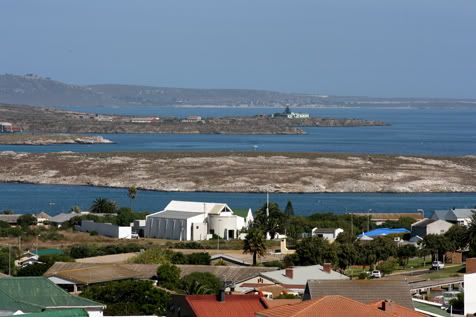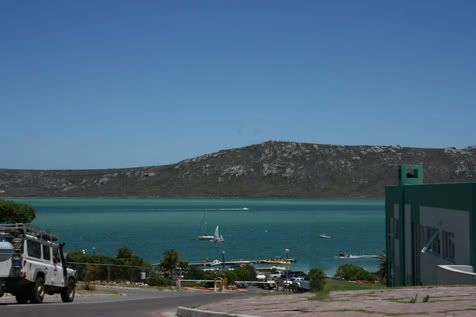 The bottom photo is the slipway at Langebaan Yacht Club - anyone who knows the Yacht Club could be forgiven for thinking that perhaps something is wrong - there should be a lamp post and the back of a Give Way sign in the photo - and aren't there one or two bushes too many... What is the point of having Photoshop if you can't take ugly obstructions out of the picture?
Finally, just outside Stellenbosch, with Mrs DB driving at 100 kph, I though this made a lovely photo: