The authorities have declared today a public holiday in Dubai. Why? Because today is the day that President Bush comes to town. They have closed lots of roads, including one of the busiest roads in the world!

I live just next to SZR and took a walk down there to get these pix:


This is Sheikh Zayed Road looking toward Dubai - as you can see the weather is atrocious - grey leaden skies and a gentle but persistent falling of cool rain. But to see SZR like this, with not a car in sight is amazing!



This is looking the other way towards Abu Dhabi and the bridge you can see is the Safa Park interchange.
Of course, under normal circumstances, standing in the middle of the second lane of six northbound lanes of traffic on SZR would have rendered me quite dead, so whilst I do not claim that these photographs are unique, I do not expect to ever be able to get them again! I wanted to go onto the bridge to take my photo's but the CID wouldn't let me on there - just as well they didn't catch me stood in the middle of the road taking these!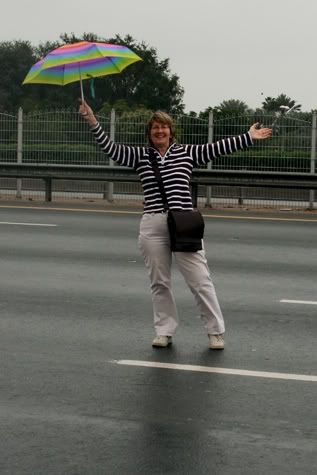 I wouldn't normally put pictures of people in my blog but I was happy to seek permission from one of my colleagues to post this, taken as she cavorted in the middle of Sheikh Zayed Road.